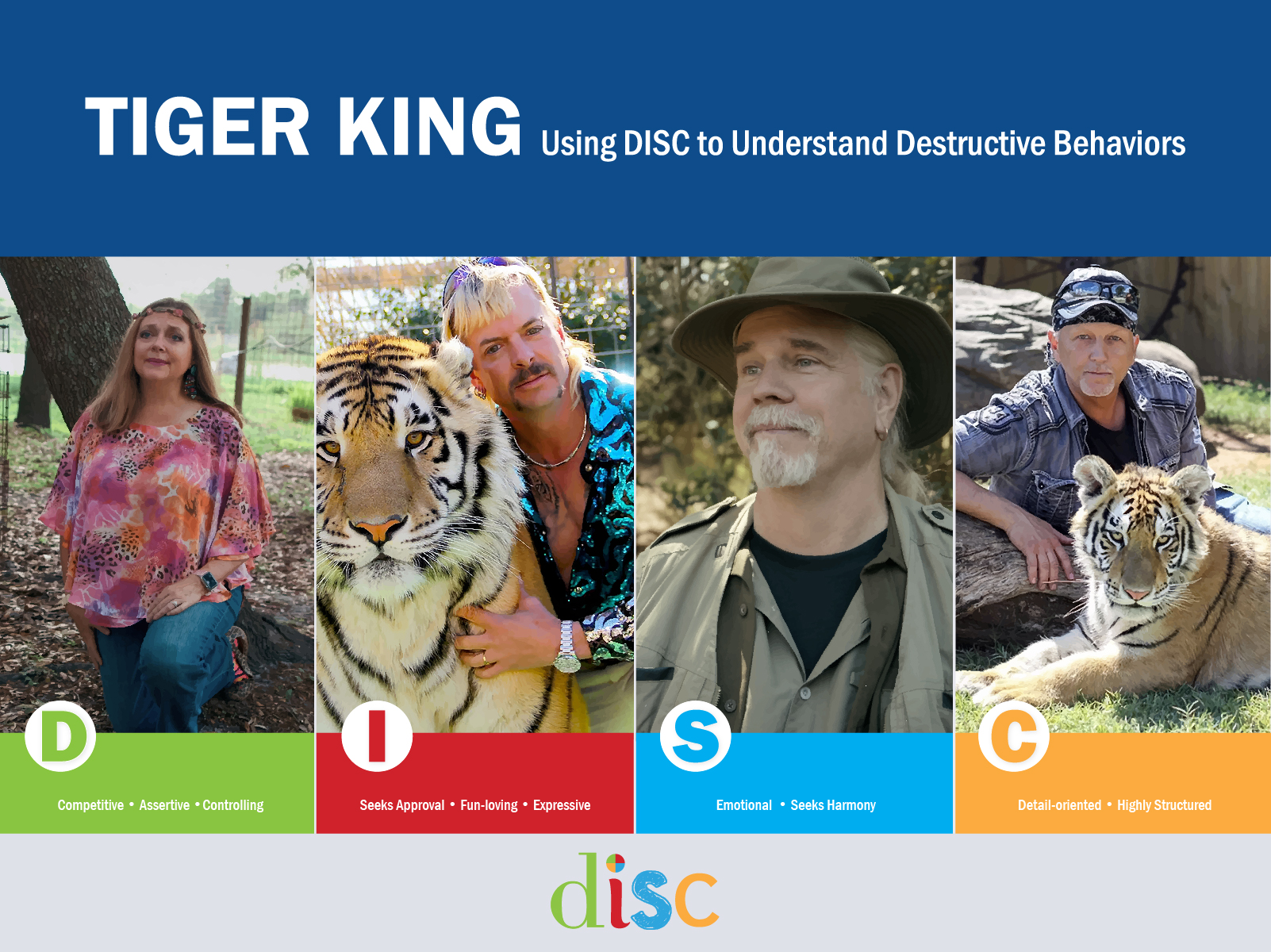 Thanks to Netflix we've been able to take a trip into the jungle, or into people's backyards at least, to learn about the crazy world of private zoos and tiger ownership in the new series Tiger King. Throughout each episode just when you think that things are already hard to believe, it just escalates from there. 
Unlike previous posts where we commented on fictional characters, these are real people in a real-life (or at least reality TV) drama. Our analysis is limited by the fact that we only know what we can see from an eight-episode series that might be edited to exaggerate certain traits. That said, these are our best guess at each person's primary style with this caveat: each person could be exhibiting behaviors that we would not call "normal" due to trauma, drugs, or other experiences which would affect what we see on the screen. 
In this show, we can see how DISC communication styles present themselves in extreme environments, or even how those behaviors can be used in destructive ways. While we prefer to focus our work and resources on the positive traits of each DISC style, there is instructive value in understanding what extreme or out-of-control expressions of each style might look like. Examining the "dark side" of each trait can help us recognize when we get out-of-control and what we can do to get back to a positive expression of our traits.
Let's look at the people in the Tiger King…
Carole Baskin – Dominant (Competitive, Assertive, Controlling)
Carole Baskin, owner of Big Cat Rescue, is someone who doesn't like to lose. Throughout the series we see several goals that she is determined to see through including: closing private zoos like Joe Exotic's and stopping the practice of "cub petting." In fact, it almost seems like she will stop at nothing to get what she wants, including spending over $1 million filing a lawsuit against Joe Exotic. Carole is one tough cookie and has no qualms with being assertive when she needs to be. (Whether or not she used that assertion to feed her ex-husband to tigers is still to be determined). 
Now that the series has been out for a while, there is also a lot of talk about how upset she is about her portrayal. And while anyone would be upset if a documentary made it look like they may have covered their husband with sardine oil and fed them to tigers, it could also be an example of her reacting to losing control of the narrative. Carole does express a few Inspiring traits as well in terms of being high-energy and a bit free-spirited, but her driving nature really seems to be wanting to do what she can to keep tigers (and other big cats) out of private zoos. 
Joe Exotic – Inspiring (Seeks approval, fun-loving, expressive)
While the Tiger King himself, Joe Exotic, exhibits what we call Inspiring traits, he is definitely not what I would call "inspiring" himself. That being said, his constant desire for everything to be recorded for his Internet television show and the way he plays everything up on screen shows how much he seeks approval of his audience. We also see what he would consider his fun-loving nature with all three of his husbands and the way that he interacts with each of them. He wants his husbands and his employees to like him so much that he'll do seemingly anything. He records music videos about them, buys them flashy gifts, and genuinely really does care about them (Even if his husbands don't love him in quite the same way).
Joe's short run for president, and then for governor, also showed how persuasive he could be with people and he could be very expressive and interactive while on the campaign trail. And, while his big picture ideas may not be the goals or desires for most people, it's hard to say that Joe didn't have big dreams for his country, his state, his marriage, and his zoo. (And if you count his dream of ridding the world of Carole Baskin, you could say he had big picture dreams for himself too.) All in all, Joe is driven by a desire to be famous and liked by others, in any way that he can get it. 
Dr. Antle – S (Emotional, seeks harmony)
Doc Antle is seen by many of his employees at the zoo as this almost holy mentor to be followed and adored. In fact, Doc Antle's given name, "Bhagavan," means "to adore." He has cultivated an environment in his zoo where everyone wants to help out and be a team player, including by living and working at the zoo for almost no pay at all. He speaks in a very soft and gentle manner and truly does seem to be supportive of his many romantic partners, who are also tiger trainers at the zoo. 
After you see interviews with some of the past and present trainers of his on the series, you'll notice that Antle does use his ability to appeal to emotions to manipulate those he works with. Not only does he make young trainers think that they need to be romantically involved in order to move up the ranks, but he also convinces them to get plastic surgery. He has created this environment that thrives on harmony and being non-confrontational which leads many of the women to also want to keep the peace. And when they don't? They're just asked to leave. 
Jeff Lowe – C (Detail-oriented, Highly Structured)
Jeff Lowe is almost completely the opposite of his past business partner, Joe Exotic. If Joe is expressive and free spirited, Jeff is inexpressive and almost cold. And while he may not seem like it while he's speaking, he thinks a lot about the details behind every business deal he comes across. And when he creates rules or a specific structure for how things are done, he can get rather upset when it's not being followed or when things don't go according to plan. 
For the most part, Jeff is someone who primarily works alone or really only trusts a few people. Despite the fact that Jeff was brought on to help Joe with his zoo, Jeff essentially takes it over. He also does quite a few calculating moves and strategies to allow Joe Exotic to get out of the zoo itself so he can run it the way that he wants to. He's very careful and methodical with his business plans and really tries to think about how to get the customer what they want, perhaps in some eccentric ways (Putting tiger cubs into suitcases and taking them to private hotel rooms in Las Vegas for example). Needless to say, Lowe leaves no detail out. 
As you can see, none of these people would be considered a typical – or normal – expression of any of the DISC styles that we write about on this site. Each of them has very powerful and extreme ways that they represent a particular behavioral trait which wouldn't be the norm for most individuals. That being said, it is a true crime documentary and therefore a great example of how DISC styles can also be exaggerated for the camera. When it comes to these cat lovers, I don't even think Tony the Tiger would call any of them "grrreat." 
Each of us has our own unique communication style, our natural preference for how we prefer to communicate. This phenomenon is expressed through the DISC model. In this series of posts, we take characters from popular culture (television, movies, history, etc.) and analyze where we think they fall on the DISC spectrum. We hope these posts will help you better understand the DISC model. 
But don't just take our word for it. Feel free to share and comment on our social media channels with your own interpretations as well as suggestions for other pop culture icons we can look at through the DISC lens.