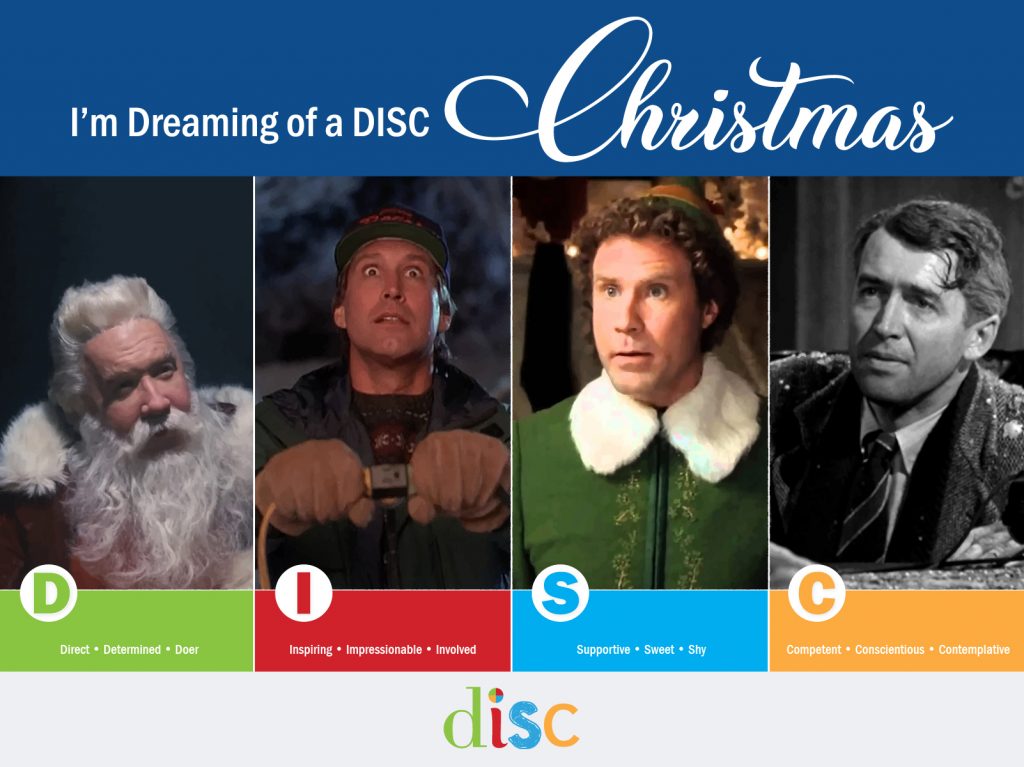 Each of us has our own unique communication style, our natural preference for how we prefer to communicate. This phenomenon is expressed through the DISC model. In this series of posts, we take characters from popular culture (television, movies, history, etc.) and analyze where we think they fall on the DISC spectrum. We hope these posts will help you better understand the DISC model. 
But don't just take our word for it. Feel free to share and comment on our social media channels with your own interpretations as well as suggestions for other pop culture icons we can look at through the DISC lens. Enjoy!
In keeping with the Christmas Spirit, we're going to take a look at the DISC styles of some of the most beloved characters from our favorite Christmas movies. There's simply too many great films to pick just one, so we tried to pick a character that represents each DISC trait. Here's what we came up with:
Scott Calvin-D
The man who would be Santa Claus (from The Santa Clause) fits the "D" profile to a tee…at least initially. The successful executive Scott is a "take-charge" kind of guy. He is without a doubt "dominant," "direct," and "demanding," often to a fault. That's what makes his transformation into Santa Claus more than just physically shocking for those who know him. Scott's drastic weight gain and sudden grayness aren't the biggest changes he experiences as he becomes Santa. 
We'll have more about Santa and his style at the end of this piece, but Scott's transformation raises a big question: Can our DISC styles change over time? Guy Harris has a terrific answer to that question.
Other Christmas "D"s- John McClane (yes, Die Hard is a Christmas movie!); Old Man Potter (It's a Wonderful Life); Ebeneezer Scrooge; Walter Hobbs (Elf)
Clark Griswold-I
People with the "I" trait are outgoing, but also in need of recognition, approval and admiration. That's the entire motivation for Clark Griswold's family holiday in Christmas Vacation. Clark wants to treat his family to the perfect old-fashioned Christmas with all the trimmings: the perfect tree, a dazzling light show, a great meal, and the capper: the announcement of the new pool he's going to have built with his bonus money.
With all of those ideals destroyed one by one, Clark loses his cool. It's as if the foundation of his world has crumbled beneath him. 
Other Christmas "I"s- Sam Wainright (It's a Wonderful Life); Mr. Parker aka "Ralphie's Dad" (A Christmas Story); Jack Frost (The Santa Clause 3)
Buddy the Elf-S
Buddy is certainly sweet, in more ways than one! He's also on a mission to connect and gain the affirmation of his long-lost father, Walter. Even though Buddy is certainly out of his element in New York City, we see his "S" characteristics naturally shine through. He immediately provides support to Gimbels when he notices their Christmas decorations aren't up to Santa's standard. Even his confrontation with Miles Finch ("the South Pole elf") is rooted in Buddy's desire to help out.
Other Christmas "S"s- Rudolph the Red-Nosed Reindeer; Mary Bailey (It's a Wonderful Life); Ellen Griswold (Christmas Vacation); Bernard the Elf (The Santa Clause)
George Bailey-C
George Bailey may be the most beloved Christmas movie character. Like Scott Calvin though, he undergoes a bit of a transformation as the story unfolds. What we love about George, however, is that ultimately he represents steadiness and conscientiousness. George is someone all of Bedford Falls can count on. Indeed, what we see through his trip with Clarence to an alternative world without him, is that Bedford Falls is in dire need of someone just like him. Every team needs a "solid" C, too.
Other Christmas "C"s- Ralphie Parker (A Christmas Story); Charlie Calvin (The Santa Clause); The Grinch
What do you think of our list? There are so many other wonderful Christmas movie characters. Tell us in the comments and on social media who we left out and what DISC style you think they illustrate.
And the big question: What about Jolly Old Saint Nick? What DISC style is Santa Claus himself. We said Scott Calvin had to transform…did he change from a "D" to another style? Or did he just adapt the way he engaged. Make sure to vote in our Twitter poll.
Find out your own DISC style with our free DISC assessment.