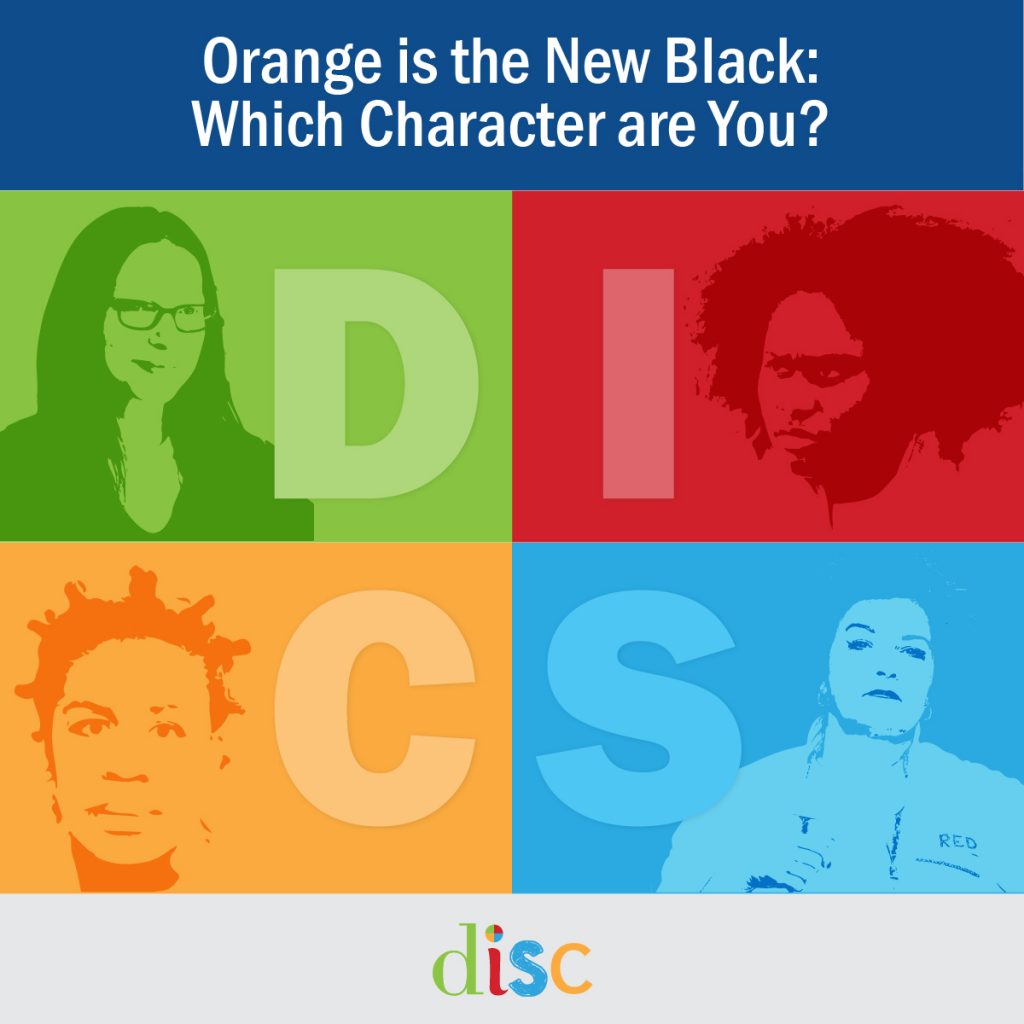 Each of us has our own unique communication style, our natural preference for how we prefer to communicate. This phenomenon is expressed through the DISC model. In this series of posts, we take characters from popular culture (television, movies, history, etc.) and analyze where we think they fall on the DISC spectrum. We hope these posts will help you better understand the DISC model. 
But don't just take our word for it. Feel free to share and comment on our social media channels with your own interpretations as well as suggestions for other pop culture icons we can look at through the DISC lens. Enjoy!
Netflix fans around the globe have come to love the women in Litchfield Penitentiary on Orange is the New Black. We've connected with their stories, their motivations, and sometimes even understand exactly why they committed the crime(s) that they did. And even though we ourselves aren't in prison, we find ourselves identifying with many of the complex and raw characters on the show. Here is a small sample of the DISC styles of the women of Litchfield (Warning…Spoilers ahead!):
Alex: D (Dominant, Determined, Decisive)
Between her quick-thinking and street smarts, Alex knows how to get what she wants. And whether it relates to her drug smuggling activities or her relationship with Piper she knows how to see things to their end goal or let go when it's needed. While most around her may find her Dominant demeanor a little too harsh, she can let her guard down around those she loves.
Taystee: I (Inspiring, Interactive, Interested in people)
Taystee's Inspirational traits show that she is someone that loves to have fun and has no problem showing everyone exactly what she's all about. But even more than that, she focuses on the bigger picture. Whether she's seeking justice for Poussey and the entire prison throughout the riot or even when she starts her micro-loan program. Her problem-solving skills and determined nature throughout the entire series could show that she has some Dominant traits as well as her considerate nature with certain people in her life could show Supportive traits.
Possible Style Blend: I/DS
Red: S (Supportive, Sensitive, Steady)
Red's love of family is what solidifies her as having high Supportive traits. She values serving delicious food from the kitchen that she's running, helping fellow prisoners stay away from drugs, and doing whatever it takes to protect her "girls". While Red may exhibit many Dominant traits as well her reason for everything she does comes down to her family both inside and outside of the prison. 
Possible style blend: S/D
Suzanne: C (Cautious, Consistent, Conscientious)
It doesn't take long to realize that Suzanne is someone who thrives on order and rules. If it goes against the rules or her routine, she frequently bucks against it. Suzanne also solves a lot of problems for her and others around her through facts, even using things that they might not have considered before. While she does skew toward an exaggerated state of logic due to her mental state, it's safe to say that Suzanne has a high level of Cautious traits.
This analysis focuses on the primary style of each character. In reality, most people exhibit a blend of the four DISC traits to create a style blend. So, you will probably relate to two or more of the characters to at least some degree. The one that best describes you is probably your primary trait.
Which of these four Orange is the New Black characters do you best understand and relate to? While it's not always true, their primary trait is probably your primary trait. 
What do you think of this analysis? Are there any that you would change? What about other characters in this show? Share this post with others and please let us know your thoughts in the comments section or on any of our social media channels.