DISC Communication Toolkit
17 fast, easy, and application focused modules for LMS
Contact us to view a sample course and to discuss pricing
When your team members understand how to adapt their communication style to better fit another person's style is when the DISC model becomes most effective. Once your team members learn how to adapt, adjust, and modify their words and actions toward others, they will be more quickly and more clearly understood.
The DISC model is truly a map to understanding human behavior. To apply the model effectively requires your team to not only be aware of their own DISC style, but also the styles of the people around them. This awareness allows your team members to tailor their communication accordingly when interacting with other team members and customers.
And that's why we created the DISC Communication Toolkit.
This powerful e-learning course will teach everyone in your organization how they can capitalize on their own unique communication style and how they can interact with co-workers and customers more effectively.
If you're ready for your team to know and understand their personal styles as well as communicate more effectively with others, then this toolkit will be the best investment you make for your team ALL YEAR.
Contact us to view a sample course and learn more about all our e-learning courses.
Practical DISC e-learning
The Toolkit Includes the Following Modules:
Overview
D to D Communication
D to I Communication
D to S Communication
D to C Communication
I to D Communication
I to I Communication
I to S Communication
I to C Communication
S to D Communication
S to I Communication
S to S Communication
S to C Communication
C to D Communication
C to I Communication
C to S Communication
C to C Communication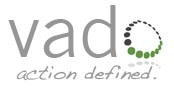 Created with our partner, Vado, The DISC Communication Toolkit is the most convenient DISC training you'll ever use. While these modules sit on your LMS and are in that way "e-learning", we consider them to be performance support tools. Learners are can develop at their own pace – completing each module exactly when they need it. These bite sized, e-learning modules help learners take what they learn and immediately apply it to get better communication results immediately.
Each module contains:
A short instructional video.
An Implementation Guide – comprehensive step-by-step instructions to help guide the learner through the lesson and to develop their capabilities.
Downloadable templates, checklists or other tools to help implement the learning.
A Course Assessment to help learners evaluate their development success.
Would you like to use these learning modules for your organization?
Contact us to view a sample course and to discuss pricing.